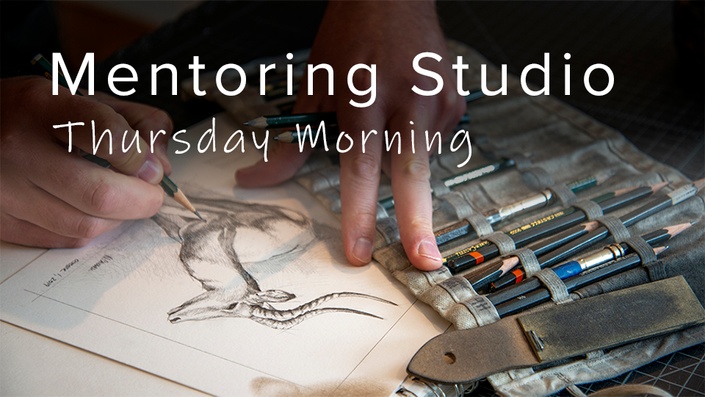 Mentoring Studio - Thursday Morning
Your weekly live online mentoring studio on Thursdays, 9:30 am - 12:00 pm ET.
Two seats are available in this Mentorship Studio.

Thursdays, 9:30 am - 12:00 pm ET.
Level: Intermediate/Advanced

During this weekly studio time, students work on their individual drawings and paintings in a virtual in-person studio. The class is a dedicated time each week for students to work and ask technique and compositional questions and receive feedback through an open discussion. As a group, students learn more than just what their individual challenge is, because all discussions/critiques are done on screen; everyone learns from each other's challenges.
All classes are held via Zoom. It is extremely easy to use and very interactive. It is also helpful to have your cellphone so you can take a picture of your work and email it to Robert during studio. This will allow Robert to share it on his screen and discuss the piece with the student-artist.
Studio times are scheduled on a monthly basis and will be listed in your RL Caldwell Studio account under the My Online Courses section. To see the scheduled classes, click on your Mentoring Studio, which will bring up the listing of classes under the Course Curriculum. There will be two sections in the Course Curriculum; the first is for the upcoming classes and the second is where past classes are archived. The past classes will be kept for six to eight months because there might be comments and images that students want to revisit.
To prepare yourself for the class and to access the Zoom meeting, click on the appropriate class to read any instructions for that day's class and then click on "Join Zoom Meeting" when you are ready to join us in the studio.
If you have any questions about the mentoring studios, please feel free to Robert at [email protected].
---
Enrollment in any of the Mentorship Studios includes
Access to all of my Drawing and Painting Courses
Access to all of my Drawing and Painting Demonstrations
Access to all of my Artists' Resources
*Your tuition payment/subscription gives instant access to these courses, demonstrations, and resources, once you unenroll in your Mentorship Studio you will no longer have access.
Course Curriculum
Reference Materials
Available in days
days after you enroll
My Paint Brushes!
Available in days
days after you enroll
Class demo videos and helpful information
Available in days
days after you enroll
Your Instructor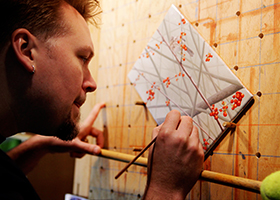 Artist and Instructor
ARC Associate Living Master
Signature Member, The Society of Animal Artists
Robert Louis Caldwell is an award-winning artist, internationally renowned for his wildlife and architectural oil paintings. His work has appeared in numerous national and international exhibitions, including the Society of Animal Artists, Art of the Animal Kingdom and Birds in Art, and is represented in the permanent collection at the Leigh Yawkey Woodson Art Museum in Wausau, Wisconsin. Robert graduated from Virginia Commonwealth University with a B.F.A. and is the author of the drawing instructional book "Draw Realistic Animals, Wildlife, Pets & More."
Read more about Robert's instructional approach, philosophy and credentials.
Visit Robert's website rlcaldwell.com to view examples of his drawings and paintings.
Frequently Asked Questions
What if I need to take a break from classes?
If you would like to take a break click on your account button in the upper-righthand corner and select the "Manage Subscriptions" option. Then click on the "Cancel" button to end your subscription, your subscription will end at the end of the month. When you are ready to rejoin your mentoring studio simply resubscribe.
What if I am sick or am going on vacation and I will miss a scheduled class?
Email Robert at
[email protected]
requesting a refund for the missed class(es), with the reason and the date. If requesting refunds becomes a recurring request you will be asked to unsubscribe from the mentoring studio.
This course is closed for enrollment.