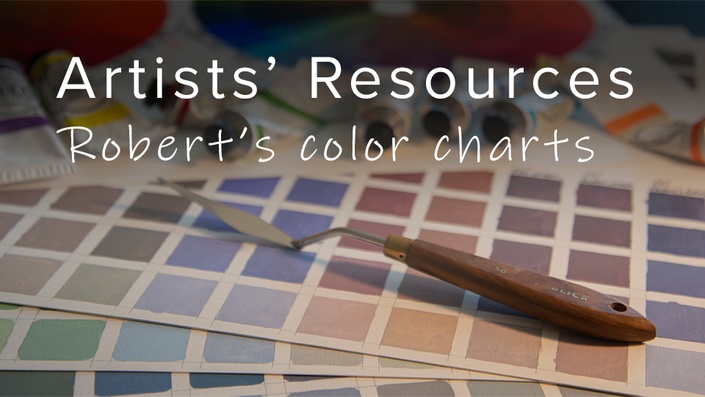 Robert's color charts
Color dominant charts from Robert's frequently used colors in his palette.
This Artist's Resource is available for students enrolled in the Mentorship And Coaching Programs.

In this course, I share my six-color system color wheels with you, my color dominant color charts, and my Gamblin Artist Oils color notation map.
Before moving forward, these color charts are only useful to an artist if you use the same paint used to create them, Gamblin's Artist Oils.
These color wheels and color charts were color calibrated using the X-rite ColorChecker passport and represent as close as possible the actual colors mixed. Your monitor and printer may not display the charts 100% accurately unless you have your devices calibrated. There are many products out there that can calibrate a monitor, I use the X-rite Display Pro.
You also gain the opportunity to purchase my color charts as Giclee fine art prints, shipped directly from the printer to your house.
Although I am making these available, I still highly recommend you taking the time to create your own color-dominant charts. It may seem like a daunting task or even feel like busywork, but documenting what your favorite colors do when mixed is invaluable.
---
Materials used in this course
Strathmore bristol board sheets
Pencil
Ruler
Gamblin Artist Oils
Six-color system primaries

Cadmium Red Deep (Warm red)
Quinacridone (Cool red)
Cadmium Yellow Medium (Warm yellow)
Cadmium Lemon (Cool yellow)
Ultramarine Blue (Warm blue)
Cerulean Blue (Cool blue)

Other colors that Robert uses often

Burnt Sienna
Yellow Ochre
Payne's Grey
Sap Green
Cadmium Orange
Cobalt Violet
Burnt Umber
Raw Umber
Titanium White
Ivory Black (Only used for these color charts)
Your Instructor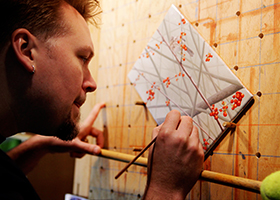 Artist and Instructor
ARC Associate Living Master
Signature Member, The Society of Animal Artists
Robert Louis Caldwell is an award-winning artist, internationally renowned for his wildlife and architectural oil paintings. His work has appeared in numerous national and international exhibitions, including the Society of Animal Artists, Art of the Animal Kingdom and Birds in Art, and is represented in the permanent collection at the Leigh Yawkey Woodson Art Museum in Wausau, Wisconsin. Robert graduated from Virginia Commonwealth University with a B.F.A. and is the author of the drawing instructional book "Draw Realistic Animals, Wildlife, Pets & More."
Read more about Robert's instructional approach, philosophy and credentials.
Visit Robert's website rlcaldwell.com to view examples of his drawings and paintings.